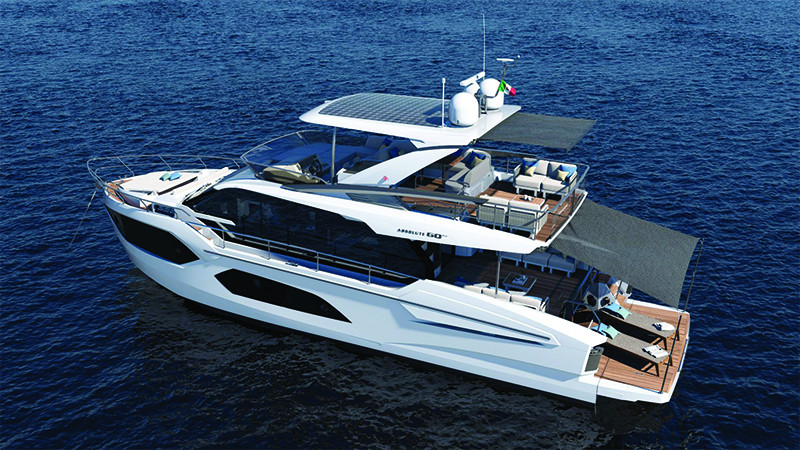 The Evolution of The Absolute Shipyard:
Launching the New 60 FLY and Coupe' Range for Generation 2022
Absolute Yachts approaches the start of boating season creating high expectations for the Generation 2022 new models. The first revolution will take place with the arrival of the 60 FLY, a completely new model called "The Absolute Prisma". A yacht that will redefine the range with new ground-breaking design elements never seen on a Flybridge boat of these dimensions, such as the Owner's quarter at the bow and the aft cockpit terrace, free from any fixed furniture elements. With the new 60 FLY, a versatile life on board and liveability of the spaces are now ensured.
A new perspective is offered by the bow master cabin – thanks to the Owner's quarter concept: a cabin which takes up the full beam of the boat, unprecedented on a 60/70-foot yacht.
From the aft cockpit there are two comfortable staircases, ideal to reach the wide platform to enjoy a terrace just above the sea; the ample dimensions of the platform offer a comfortable entrance to the crew cabin, through the pantograph door concealed in the transom.
 On the upper deck, the Fly area offers a second open-air salon totally immersed in the surrounding landscape, whose generous dimensions are just waiting to be lived. Even the bow area is designed for maximum versatility of use thanks to a comfortable sofa with table, a sunbathing area, and music: social boating and privacy, all in one, day and night.
The rendezvous with the international press is planned for June at Marina di Varazze (Savona, Italy). It will be a preview of the new Absolute 60 FLY, a first boating experience reserved to the press. The official presentation to the public will take place during Cannes Yachting Festival in September 2021, where Absolute will also introduce the first model of the new upcoming range, the Absolute 48 Coupé. The website dedicated to the new Absolute 60 FLY is now online, showing all the available technical details: www.60fly.absoluteyachts.com
News
We have great news, from now on you can visit our sales team in the newly opened sales office
in Marina Dalmacija in Sukošan (D-marine).
09th JUNE 2021
Baotić Yachting is pleased to invite you to the ABSOLUTE RENDEZ-VOUS which will take place in Marina Baotić in Seget Donji/Croatia on the 9th June 2021.
We are looking forward to presenting you 5 astonishing Absolute Yachts in our Marina in Croatia. The event will take place on 9th of June 2021 between 10:00 am and 17:00 pm. The frame of the event is a friendly and relaxing atmosphere accompanied by drinks and catering.
View all