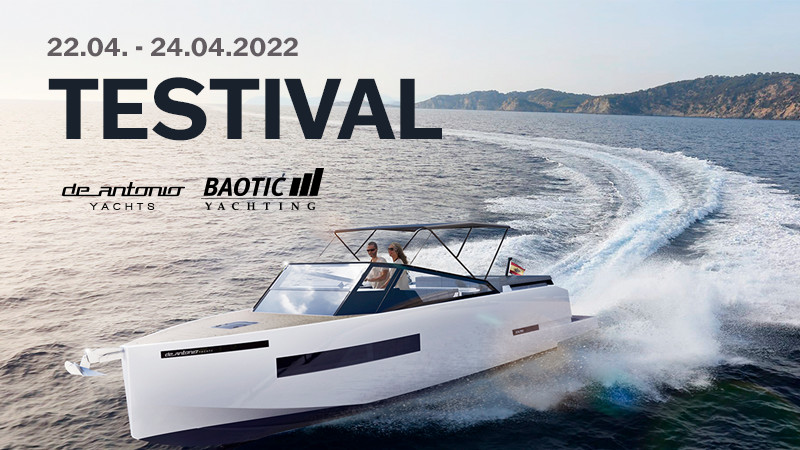 We would like to invite you from 22.04. till 24.04.2022. to our TESTIVAL at Lake Constance. The ingenious concept of the room layout offers you more space than almost any other boat of this size. A mix of futuristic design, the highest quality with the best driving characteristics and incomparable space will inspire you! Our sales team will be happy to advise you and configure your first De Antonio Yachts model with you. Be amazed by the versatility of the D28 Cruiser and make an appointment for a test drive.
Visit and test drives in tehe BMK marina Langenargen on Lake Constance!
For all questions regarding detailed procedures, arrival, accommodation and appointments,
Mr. Robert Thomas is at your disposal.
Contact:
Tel: + 49(0)1590-4072958
Email: robert.thomas@baotic-yachting.com
News
Since 1977, the Cannes Yachting Festival takes place every September in elegant, luxurious surroundings in the sparkling bay of Cannes.
Our sales team will be present the whole week in Cannes and is looking forward to presenting you all the novelties displayed in Cannes. 
Baotić Yachting is pleased to invite you to the ABSOLUTE WEEKEND 2022
which will take place in Marina Baotić in Seget Donji/Croatia. We are looking forward to presenting you with 2 astonishing Absolute Yachts in our Marina in Croatia. The event will take place on 23th and 24th of April 2022 between 11:00 am and 18:00 pm. The frame of the event is a friendly and relaxing atmosphere accompanied by drinks and catering.
View all