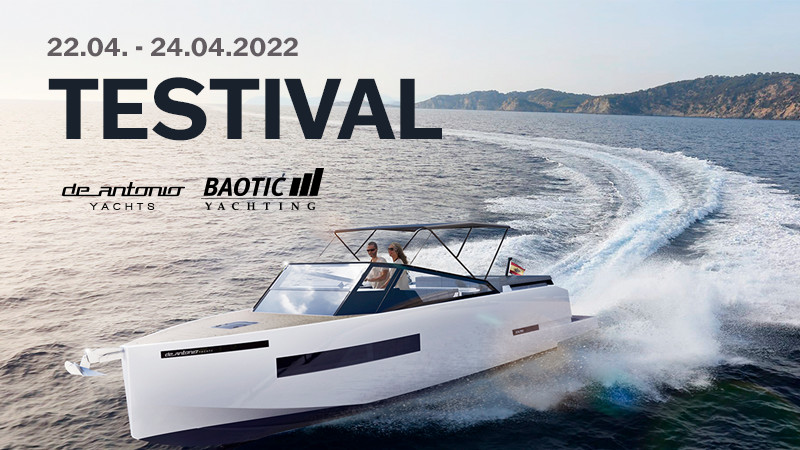 We would like to invite you from 22.04. till 24.04.2022. to our TESTIVAL at Lake Constance. The ingenious concept of the room layout offers you more space than almost any other boat of this size. A mix of futuristic design, the highest quality with the best driving characteristics and incomparable space will inspire you! Our sales team will be happy to advise you and configure your first De Antonio Yachts model with you. Be amazed by the versatility of the D28 Cruiser and make an appointment for a test drive.
Visit and test drives in tehe BMK marina Langenargen on Lake Constance!
For all questions regarding detailed procedures, arrival, accommodation and appointments,
Mr. Robert Thomas is at your disposal.
Contact:
Tel: + 49(0)1590-4072958
Email: robert.thomas@baotic-yachting.com
News
With almost 250,000 visitors, boot Düsseldorf is the world's largest boat and water sports fair and every year in January the "meeting place" for the entire industry. From 21 to 29 January 2023, around 2,000 exhibitors will be presenting their interesting new products, attractive further developments and maritime equipment.
52 FLY is the latest model in the Flybridge range, and it is a truly revolutionary yacht. By means of Absolute's state-of-the-art design and engineering, the 52 FLY presents the brand's extraordinary liveability in this more compact dimension. It is a truly innovative work of marine architecture, a dazzling highlight even in this particularly crowded area of the market. Its keyword "direction" indicates Absolute's intentions for the new 52 FLY: a ground-breaking direction for the market and an innovative point of reference for the entire sector.
View all
Cookie policy
To make this website run properly and to improve your experience, we use cookies. For more detailed information, please check our Cookie Policy.
Choice of cookies on this website
Allow or deny the website to use functional and/or advertising cookies described below: