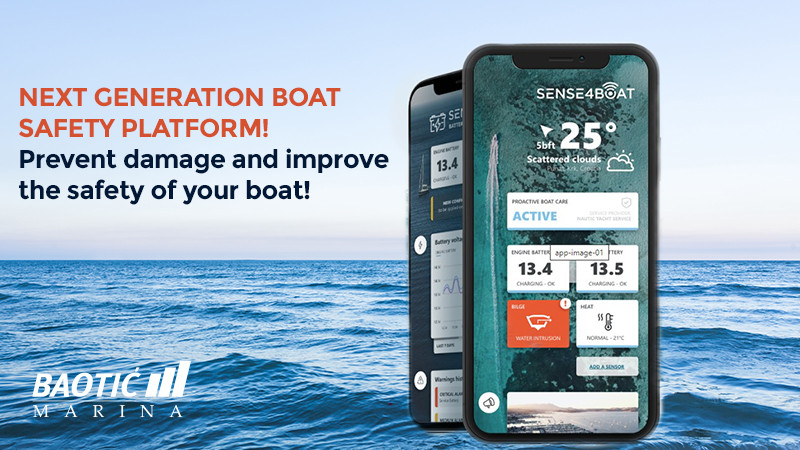 Prevent damage and improve the safety of your boat!
Here's the cold, hard truth: 90% of the time, your boat is docked in a marina.
Incidents like fire, water damage, electrical failures, and uncontrolled battery consumption tend to happen, while you are away from your boat. The Sense4Boat platform enables you to not worry about the safety of your boat, the status of the batteries, and other issues. We make sure that even when you are sound asleep, your boat has someone to call for help.
Sense4Boat is the safest boat monitoring solution in the world.
With smart sensors which do not connect to the boat's electrical system, a SIMless internet connection and a battery life of 7+ years, it enables boaters to prevent various hazards the boat is exposed to while you are away from your boat.
Unlike other solutions, Sense4Boat connects your boat to your marina as well. This ensures that even if you are hundreds of miles away, there is professional staff that will handle a problem if it occurs.
What do you get with Sense4Boat platform?
Protect your boat from sinking and water damage
Water will always find a way to your bilge. Most often, it will just be rain water, which which will create mold and an unpleasant odor after a while.
In addition, since every boat has many water outlets sometimes things can go wrong and your boat will be at risk of sinking. You can prevent this hazard with the Smart Bilge sensor. Never be surprised, by water in the bilge, again.
Sense4Boat Smart Bilge sensor is IP67 certified making it safe to install in the bilge. It comes with a practical float switch which can be installed in any bilge configuration, at a desired height.
Reduce risk of fire and freezing
Prevention of fire on a boat stored/docked in the marina is a demanding challenge. The fire is usually spotted at a very late stage, at which it already had developed high temperatures and spread to the adjacent boats. Motor boats are at particularly high risks, having different kinds of of fire-risky equippment (engines, chargers, batteries, fuel, pumps) concentrated in a very small area of the engine room.
Sense4Boat provides a special IP67 rated sensor, resistant to high temperatures often found in engine rooms, which continuously (every 6 sec) monitors the temperature and detects the smallest changes in the temperature.
Every temperature difference of 3°C is sent and processed in the control center.
Increase the life expectancy of your batteries
This sensor monitors your batteries and informs you what actions need to be taken in order to ensure proper maintenance. The battery voltage is measured every 3h and sent to the control center for your analysis.
Prevent damage from deep discharging.
Deep discharging is the primary reason for a premature battery death. Now your battery can send you an email and push notification when the voltage drops below specified threshold. The thresholds are configurable according to you needs.
For more info contact: service.manager@marinabaotic.com
News
We have great news, from now on you can visit our sales team in the newly opened sales office
in Marina Dalmacija in Sukošan (D-marine).
09th JUNE 2021
Baotić Yachting is pleased to invite you to the ABSOLUTE RENDEZ-VOUS which will take place in Marina Baotić in Seget Donji/Croatia on the 9th June 2021.
We are looking forward to presenting you 5 astonishing Absolute Yachts in our Marina in Croatia. The event will take place on 9th of June 2021 between 10:00 am and 17:00 pm. The frame of the event is a friendly and relaxing atmosphere accompanied by drinks and catering.
View all