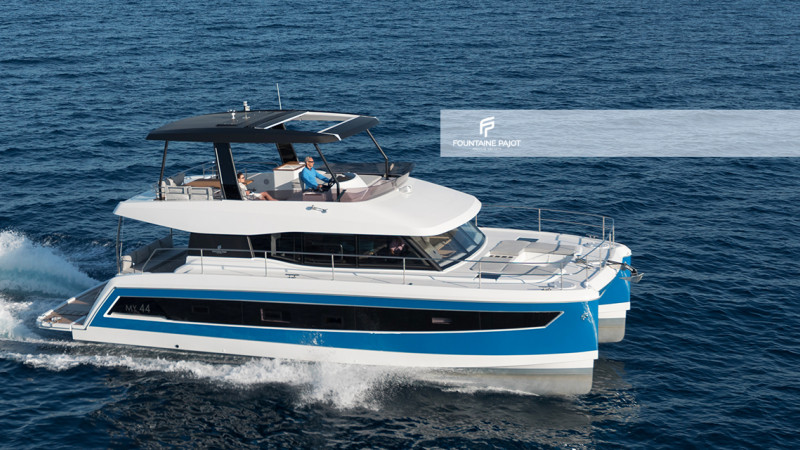 We, Baotic Yachting, are proud to announce our partnership with Fountaine Pajot. We decided to explore an ocean of new possibilities with the power, space and sophistication of a Fountaine Pajot Motor Yacht.
Fountaine Pajot is a global brand, founded in 1976 as a result of the quest for sporting performance by Jean-François Fountaine, Yves Pajot and Daniel Givon. The Fountaine Pajot shipyard began the Motor Yachts adventure in 1998.
Fountaine Pajot Motor Yachts are delivering outstanding performance at sea, the range features magnificent panoramic views from their luminescent interiors, exceptional fuel efficiency, impressive power and world-class safety.
As an official Fountaine Pajot Motor Yacht dealer, we take care of customers in territory of Germany: Hessen & Baden-Württemberg, Croatia, Slovenia and Bosnia and Herzegovina.
Find more information and the range at: Fountaine Pajot model range

If you are looking for an opportunity to make an holiday experience and an impression of Fountaine Pajot Motor Yacht performance, we are happy to offer you the MY44 now known as MY6, which is part of our charter fleet based in Marina Baotic in Seget Donji. For all further information or availability, we are at your disposal.
We are keen to start the cooperation with the Fountaine Pajot community and being a part of the Fountaine Pajot family.
News
We have great news, from now on you can visit our sales team in the newly opened sales office
in Marina Dalmacija in Sukošan (D-marine).
09th JUNE 2021
Baotić Yachting is pleased to invite you to the ABSOLUTE RENDEZ-VOUS which will take place in Marina Baotić in Seget Donji/Croatia on the 9th June 2021.
We are looking forward to presenting you 5 astonishing Absolute Yachts in our Marina in Croatia. The event will take place on 9th of June 2021 between 10:00 am and 17:00 pm. The frame of the event is a friendly and relaxing atmosphere accompanied by drinks and catering.
View all