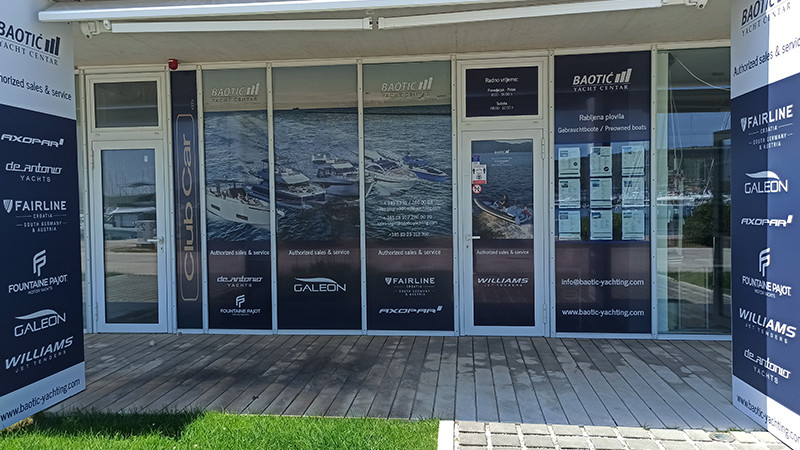 We have great news, from now on you can visit our sales team in the newly opened sales office in Marina Dalmacija in Sukošan (D-marine).
Together we can arrange a tour of available boats, arrange a test drive or simply provide you with quality advice. Whether you are looking for a sport boat, a flybridge yacht, or a daily cruiser, our staff is happy to advise you and help you select the most suitable brand and model for you. We look forward to your arrival.
Feel free to contact us and drop by to find out about current offers.
Contact:
Email: sales-sukosan@baotic-yachting.com
Tel:   +385 (0)23 312 702
Mob 1: +385 (0) 91 / 280 00 20
Mob 2: +385 (0) 91 / 280 00 04
Mob 3: +385 (0) 91 / 280 00 63
News
Since 1977, the Cannes Yachting Festival takes place every September in elegant, luxurious surroundings in the sparkling bay of Cannes.
Our sales team will be present the whole week in Cannes and is looking forward to presenting you all the novelties displayed in Cannes. 
Baotić Yachting is pleased to invite you to the ABSOLUTE WEEKEND 2022
which will take place in Marina Baotić in Seget Donji/Croatia. We are looking forward to presenting you with 2 astonishing Absolute Yachts in our Marina in Croatia. The event will take place on 23th and 24th of April 2022 between 11:00 am and 18:00 pm. The frame of the event is a friendly and relaxing atmosphere accompanied by drinks and catering.
View all