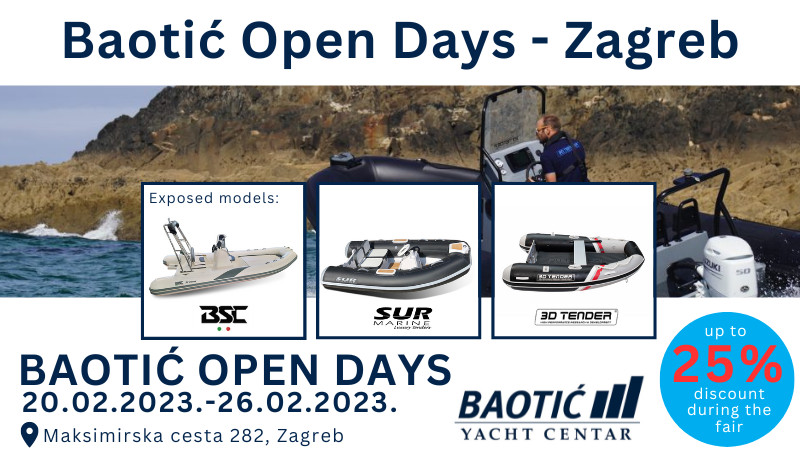 Nautical industry returns to Zagreb. Namely, after a two-year hiatus due to commonly known reasons, the Zagreb Nautical Fair will be held this year. As usual, the fair will last 5 days, starting on February 22, 2023, and ending on February 26, 2023.
Our showroom
In parallel with the Zagreb Nautical Fair, from February 20, 2023, until February 26, 2023 (if necessary and longer), at the address Maksimirska cesta 282 in Zagreb, we will exhibit our rubber boats:
For more information or appointment inquiries, please contact our sales representative:

➡️ Mr. Tomislav Baotić
Mob: +385 (0) 91 280 0046
E-mail: sales-zagreb@baotic-yachting.com
News
Visit us at the largest and most comprehensive boat trade fair in Austria!
WE ARE BACK! After a two-year Corona break, the fair doors are open again and the Baotić Yachting Team looks forward to welcoming you in Hall 3 at Stand 311 from March 2nd to 5th.
In parallel with the Zagreb Nautical Fair, from February 20, 2023, until February 26, 2023 (if necessary and longer), at the address Maksimirska cesta 282 in Zagreb, we will exhibit our rubber boats:
View all
Cookie policy
To make this website run properly and to improve your experience, we use cookies. For more detailed information, please check our Cookie Policy.
Choice of cookies on this website
Allow or deny the website to use functional and/or advertising cookies described below: