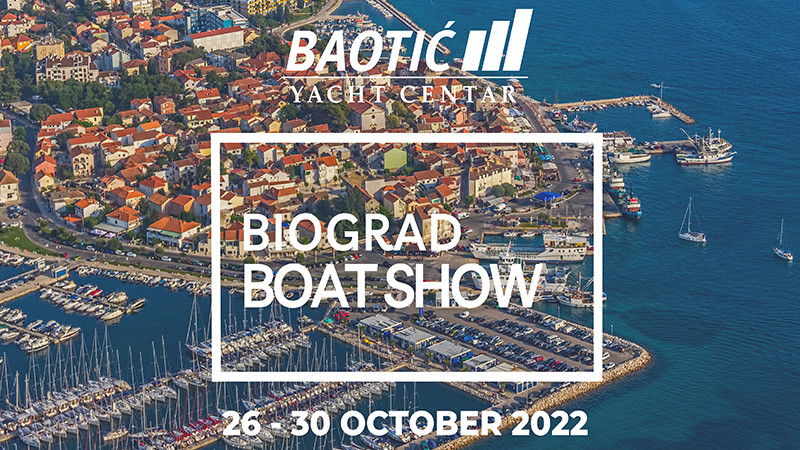 Biograd Boat Show
26 – 30 October 2022!
The largest Croatian boat show is taking place at Biograd.
Fairs are the ideal place where you can board the boats of your dreams, experience them and try them out.
We are looking forward to meeting you there.
Boats on display:
Galeon 410 HTC
Axopar 25 Cross-Bow
Axopar 37 Sun-Top
BSC 57
Sur Marine 330
Sur Marine 310
Fountaine Pajot MY4.S
De Antonio 28 Open
Nikhen Aquasun 34 Sedan
Rand 27 Supreme
Williams 345
Club Car
Sessa Marine 3CX & Key Largo 24
Contact our team for details:
GALEON YACHTS / WILLIAMS JET TENDERS
➡️ Mr. Domeniko Mikas
Mob: 00385 91 28 000 04
Email: sales-biograd@baotic-yachting.com
AXOPAR
➡️ Mr. Zlatko Stiblik
Mob:00385 91 28 000 20
Email: sales-seget@baotic-yachting.com
DE ANTONIO YACHTS 
➡️ Mr. Antonio Mišković
Mob: 00385 91 2800 075
Email: sales-seget3@baotic-yachting.com
RAND
➡️ Mr. Franko Erak
Mob: 00385 91 2800 045
Email: sales-seget2@baotic-yachting.com
SESSA MARINE / SUR MARINE / BSC
➡️ Mr. Tomislav Baotić
Mob: 00385 91 2800 046
Email: sales-zagreb@baotic-yachting.com
FOUNTAINE PAJOT
➡️ Mrs. Bianka Pesić
Mob: 00385 91 2800 063
Email: sales-sukosan@baotic-yachting.com
NIKHEN
➡️ Mr. Tomislav Tomaš
Mob: 00385 91 2800 036
Email: base.manager@baotic-yachting.com

CLUB CAR
➡️ Mr. Kruno Ivan Hrestak
Mob: 00385 91 2900 016
Email: kruno.ivan.hrestak@baotic.hr

Save the date and see you !
News
With almost 250,000 visitors, boot Düsseldorf is the world's largest boat and water sports fair and every year in January the "meeting place" for the entire industry. From 21 to 29 January 2023, around 2,000 exhibitors will be presenting their interesting new products, attractive further developments and maritime equipment.
52 FLY is the latest model in the Flybridge range, and it is a truly revolutionary yacht. By means of Absolute's state-of-the-art design and engineering, the 52 FLY presents the brand's extraordinary liveability in this more compact dimension. It is a truly innovative work of marine architecture, a dazzling highlight even in this particularly crowded area of the market. Its keyword "direction" indicates Absolute's intentions for the new 52 FLY: a ground-breaking direction for the market and an innovative point of reference for the entire sector.
View all
Cookie policy
To make this website run properly and to improve your experience, we use cookies. For more detailed information, please check our Cookie Policy.
Choice of cookies on this website
Allow or deny the website to use functional and/or advertising cookies described below: