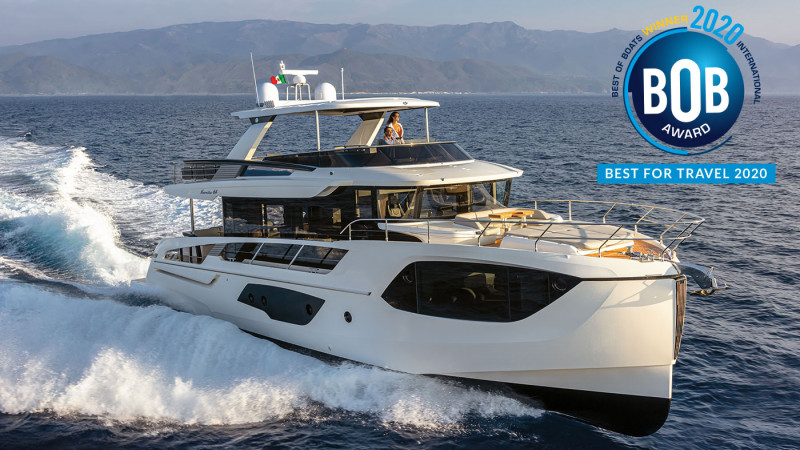 On Thursday, November 19th, the Best of Boats Award 2020 award ceremony took place in Berlin, with the nominated yachts and shipyards.
Initiated in 2014, this is the only award in the motorboating world that aims at identifying the best yachts of the year based on five categories for different use: best for beginners, for family, for fun, for fishing, and for travel.
Precisely in this last category, Absolute Navetta 64—The Absolute Pathfinder—has won the award in the "Best for Travel" category.
According to a jury of nautical journalists with great experience and passion for testing: "It's one of the biggest 60-footer ever seen. Actually, it has 64'5", so the space on board is enormous, open and bright. Adding to the incredible master cabin the new Navetta has a beach club on the aft. It's something special."
The 18 international journalists of the jury, all coming from various publishing houses, were looking for the best novelties in terms of motorboating in Europe and announced the winners in the different categories among the 21 official finalists.
"It is always thrilling to be nominated for such an award and, above all, win it!" stated Cesare Mastroianni, Absolute VP Sales & CCO, in streaming from the shipyard's headquarters in Piacenza, Italy. "The concept behind the Navetta's line was born a few years ago: we wanted our boats to give the owner the possibility to travel anywhere without ever feeling far from home. We called this particular project 'The Absolute Pathfinder' because aboard the Navetta 64 you can really travel anywhere you want, without space limits."
News
We, Baotic Yachting, are proud to announce our partnership with Fountaine Pajot. We decided to explore an ocean of new possibilities with the power, space and sophistication of a Fountaine Pajot Motor Yacht.
The Evolution of The Absolute Shipyard: Launching the New 60 FLY and Coupe' Range for Generation 2022
View all