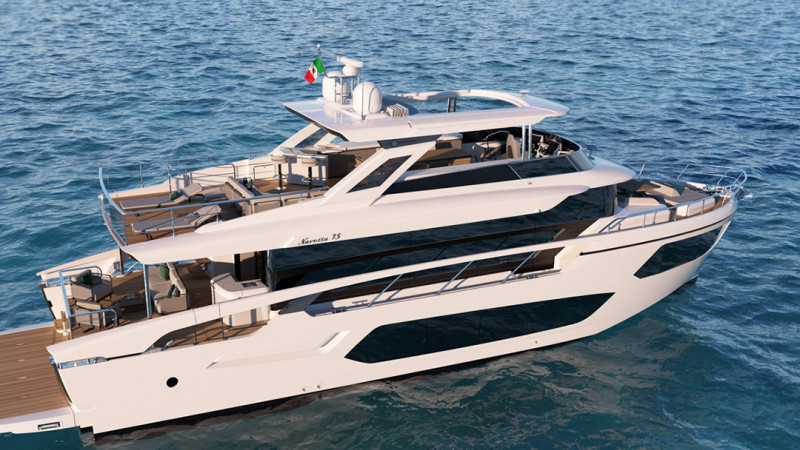 Absolute's prestige position in the luxury yachts sector was confirmed at Cannes by the 2022 World Yacht Trophies prize, awarded to the Navetta 75 in the "Best Interior Design" category.
In fact the Navetta 75, Absolute's new flagship, presents all the brand's interior design hallmarks, a combination of style, comfort and functionality in interiors that can be modulated according to the occasion. For example, the galley can be continuous with the saloon, or separated, by means of a vertically-sliding mirror panel. Another distinctive design feature can be seen in the system of stairs and passageways that enables the crew to operate in total discretion, without having to enter guest spaces.
Absolute's choices for interior design are always in function of optimal comfort: for instance, the full-beam mastercabin is in the bows, for privacy and tranquillity. Throughout, Absolute's matchless artisanal skill and the finest materials – timber, leather, glass, stainless steel, marble – can be seen in interiors expressing Italian design flair. The Navetta 75 was a world premiere at the Cannes show from 6 to 11 September 2022.  # ABSOLUTE NAVETTA 75 – THE ABSOLUTE SPHERE
ABSOLUTE YACHTS
➡️ Mr. Zlatko Coskovic
Mob: 0049 (0) 178 - 7177521
Email: zlatko.coskovic@baotic-yachting.de
News
With almost 250,000 visitors, boot Düsseldorf is the world's largest boat and water sports fair and every year in January the "meeting place" for the entire industry. From 21 to 29 January 2023, around 2,000 exhibitors will be presenting their interesting new products, attractive further developments and maritime equipment.
52 FLY is the latest model in the Flybridge range, and it is a truly revolutionary yacht. By means of Absolute's state-of-the-art design and engineering, the 52 FLY presents the brand's extraordinary liveability in this more compact dimension. It is a truly innovative work of marine architecture, a dazzling highlight even in this particularly crowded area of the market. Its keyword "direction" indicates Absolute's intentions for the new 52 FLY: a ground-breaking direction for the market and an innovative point of reference for the entire sector.
View all
Cookie policy
To make this website run properly and to improve your experience, we use cookies. For more detailed information, please check our Cookie Policy.
Choice of cookies on this website
Allow or deny the website to use functional and/or advertising cookies described below: