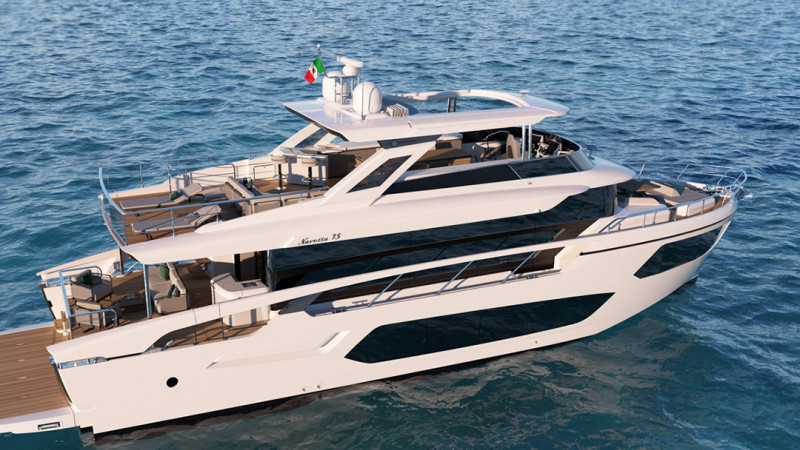 Absolute's prestige position in the luxury yachts sector was confirmed at Cannes by the 2022 World Yacht Trophies prize, awarded to the Navetta 75 in the "Best Interior Design" category.
In fact the Navetta 75, Absolute's new flagship, presents all the brand's interior design hallmarks, a combination of style, comfort and functionality in interiors that can be modulated according to the occasion. For example, the galley can be continuous with the saloon, or separated, by means of a vertically-sliding mirror panel. Another distinctive design feature can be seen in the system of stairs and passageways that enables the crew to operate in total discretion, without having to enter guest spaces.
Absolute's choices for interior design are always in function of optimal comfort: for instance, the full-beam mastercabin is in the bows, for privacy and tranquillity. Throughout, Absolute's matchless artisanal skill and the finest materials – timber, leather, glass, stainless steel, marble – can be seen in interiors expressing Italian design flair. The Navetta 75 was a world premiere at the Cannes show from 6 to 11 September 2022.  # ABSOLUTE NAVETTA 75 – THE ABSOLUTE SPHERE
ABSOLUTE YACHTS
➡️ Mr. Zlatko Coskovic
Mob: 0049 (0) 178 - 7177521
Email: zlatko.coskovic@baotic-yachting.de
News
Visit us at the largest and most comprehensive boat trade fair in Austria!
WE ARE BACK! After a two-year Corona break, the fair doors are open again and the Baotić Yachting Team looks forward to welcoming you in Hall 3 at Stand 311 from March 2nd to 5th.
In parallel with the Zagreb Nautical Fair, from February 20, 2023, until February 26, 2023 (if necessary and longer), at the address Maksimirska cesta 282 in Zagreb, we will exhibit our rubber boats:
View all
Cookie policy
To make this website run properly and to improve your experience, we use cookies. For more detailed information, please check our Cookie Policy.
Choice of cookies on this website
Allow or deny the website to use functional and/or advertising cookies described below: