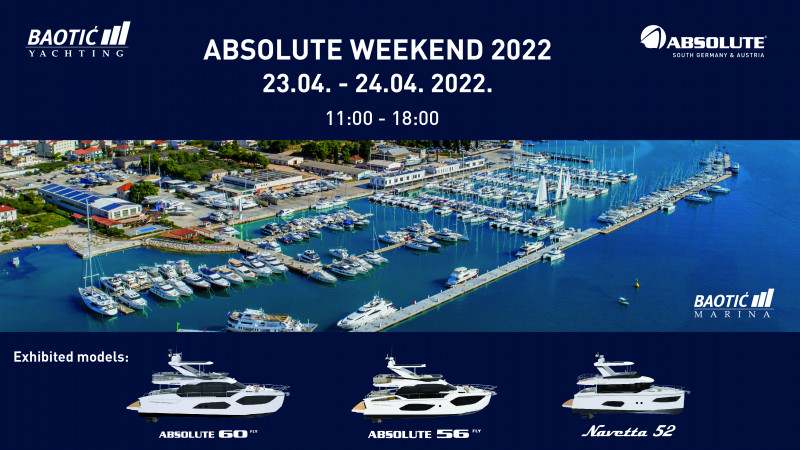 Absolute Weekend at Marina Baotic / Seget Donji (HR)
23.04. - 24.04.2022
Baotić Yachting is pleased to invite you to the ABSOLUTE WEEKEND 2022
which will take place in Marina Baotić in Seget Donji/Croatia. We are looking forward to presenting you with 2 astonishing Absolute Yachts in our Marina in Croatia. The event will take place on 23th and 24th of April 2022 between 11:00 am and 18:00 pm. The frame of the event is a friendly and relaxing atmosphere accompanied by drinks and catering.
You will have the opportunity to visit the brand new GENERATION 2022 ABSOLUTE 56 FLY & ABSOLUTE 60 FLY  launched in the water with the possibility of test drives.
ABSOLUTE NAVETTA 52 is also on display (no test drives).
COVID-19 Information: Due to statutory obligation from the official authorities for the prevention of spreading of Covid-19, please note that a PRE-REGISTRATION with your personal data is required and compulsory. Your data will be treated in accordance with GDPR measurements.
We do everything for your health and safety.  We are implementing all required hygiene measures with sufficient hand disinfection stations, by implementing a special hygiene concept for catering, by mandating the wearing of face masks wherever this is required by the laws applicable at the time of the event.
To spend your stay in Marina Baotić as carefree as possible, from now on you have the opportunity to test yourself on COVID-19 directly in the marina. 
For all further questions related to detailed schedule, arrival, accommodation and registration of your visit, Mr. Zlatko Coskovic kindly remains at your disposal.
T: 0049 (0) 69 829 788 28
News
With almost 250,000 visitors, boot Düsseldorf is the world's largest boat and water sports fair and every year in January the "meeting place" for the entire industry. From 21 to 29 January 2023, around 2,000 exhibitors will be presenting their interesting new products, attractive further developments and maritime equipment.
52 FLY is the latest model in the Flybridge range, and it is a truly revolutionary yacht. By means of Absolute's state-of-the-art design and engineering, the 52 FLY presents the brand's extraordinary liveability in this more compact dimension. It is a truly innovative work of marine architecture, a dazzling highlight even in this particularly crowded area of the market. Its keyword "direction" indicates Absolute's intentions for the new 52 FLY: a ground-breaking direction for the market and an innovative point of reference for the entire sector.
View all
Cookie policy
To make this website run properly and to improve your experience, we use cookies. For more detailed information, please check our Cookie Policy.
Choice of cookies on this website
Allow or deny the website to use functional and/or advertising cookies described below: