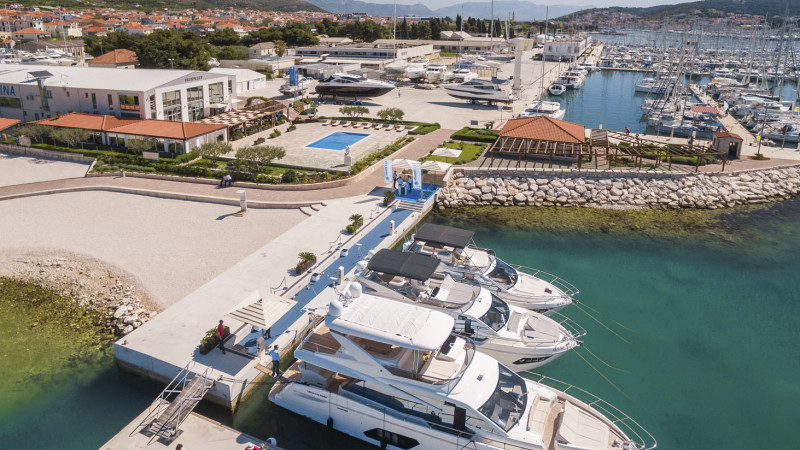 Absolute Weekend at Marina Baotic / Seget Donji (HR)
17.04. - 18.04.2021
Baotić Yachting is pleased to invite you to the ABSOLUTE WEEKEND 2021
which will take place in Marina Baotić in Seget Donji/Croatia. We are looking forward to presenting you 2 astonishing Absolute Yachts in our Marina in Croatia. The event will take place on 17th and 18th of April 2021 between 11:00 am and 18:00 pm. The frame of the event is a friendly and relaxing atmosphere accompanied by drinks and catering.
You will have the opportunity to visit the brand new ABSOLUTE 47 FLY & ABSOLUTE 50 FLY launched in the water with the possibility of test drives.
COVID-19 Information: Due to statutory obligation from the official authorities for the prevention of spreading of Covid-19, please note that a PRE-REGISTRATION with your personal data is required and compulsory. Your data will be treated in accordance with GDPR measurements.
CLICK & MEET!
We do everything for your health and safety.  We are implementing all required hygiene measures with sufficient hand disinfection stations, by implementing a special hygiene concept for catering, by mandating the wearing of face masks wherever this is required by the laws applicable at the time of the event.
To spend your stay in Marina Baotić as carefree as possible, from now on you have the opportunity to test yourself on COVID-19 directly in the marina. Testing would be done on Fridays (exceptions allowed), from 14:00 to 18:00, depending on the number of registered clients.
All test results will arrive at your private e-mail addresses within 24 hours, and possibly the same day, all by agreement.
For all further questions related to detailed schedule, arrival, accommodation and registration of your visit, Mr. Zlatko Coskovic kindly remains at your disposal.
T: 0049 (0) 69 829 788 28
News
We, Baotic Yachting, are proud to announce our partnership with Fountaine Pajot. We decided to explore an ocean of new possibilities with the power, space and sophistication of a Fountaine Pajot Motor Yacht.
The Evolution of The Absolute Shipyard: Launching the New 60 FLY and Coupe' Range for Generation 2022
View all