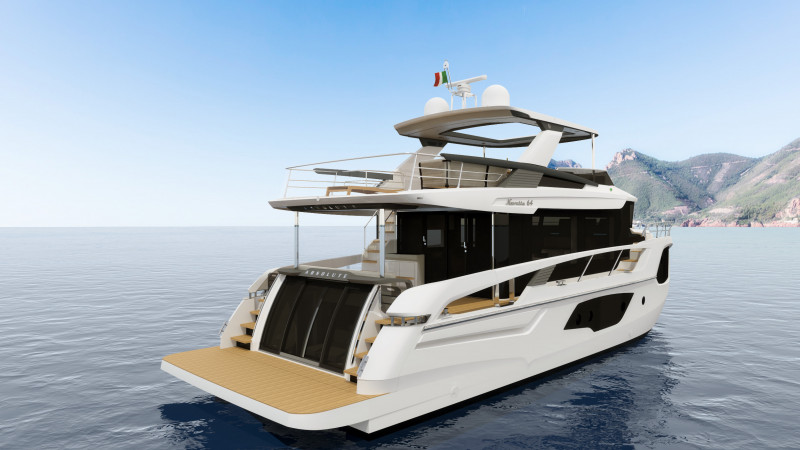 At boot Düsseldorf 2020, the new Absolute Navetta 64 was presented to the public at the press conference. Absolute's innovative strength continues in the usual way. 
After the new generation 2020 of the ABSOLUTE NAVETTA 58 and ABSOLUTE NAVETTA 52 was presented in Cannes 2019 and this season the two models will already drive in many areas, Absolute will be presenting the new ABSOLUTE NAVETTA 64, which closes the gap between NAVETTA 68 and NAVETTA 58, for the first time at the Cannes boat show 2020 for the 2021 season. 
The new ABSOLUTE NAVETTA 64 has 4 cabins, crew cabin with separate access and the BEACH CLUB at the stern, which is unique in this size. 
The available engines with 2 x Volvo Penta IPS1200 (2 * 900 PS) or 2x Volvo Penta IPS1350 (2 * 1000 PS) will, as usual, ensure excellent top performance, safe navigation and optimal cruising speeds.
With the new NAVETTA 64, the NAVETTA line consists of 6 models:
ABSOLUTE NAVETTA 73
ABSOLUTE NAVETTA 68
ABSOLUTE NAVETTA 58
ABSOLUTE NAVETTA 52
ABSOLUTE NAVETTA 48
News
The Croatian National Tourist Boardhas launched a multilingual portal nautika.evisitor.hr which enables nautical visitors to pay their tourist tax online.
We would like to inform you that on 09.05.2020.g. came the decision of enabling Croatian citizens and foreigners to enter the Republic of Croatia for economic and personal reasons into force.
View all